We don't eat at Italian restaurants all that much, so it's been an entire year since we have been back to Brunos Trattoria. Orange County Restaurant Week came around again and we were too lazy to drive to South County where most of the participating restaurants are, so we figured Brunos would be a good bet since we had a good experience last year. Boy, were we wrong.
Understanding that the quality of food was up to par, the service that we received this time was extremely poor. The service staff seemed to have their heads in all the wrong places and it looked like operational chaos. There didn't look like there were enough servers on duty and they were all taking on more tables than they could manage. You can read the rest of my complaints below the photo of the water on the floor.
Brunos Trattoria – Brea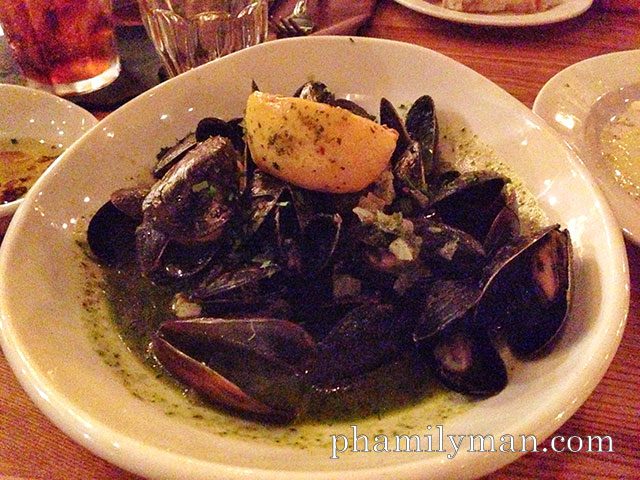 Cozze. PEI mussels cooked with garlic, white wine, fennel, and fresh herbs. The serving is very generous and great for sharing.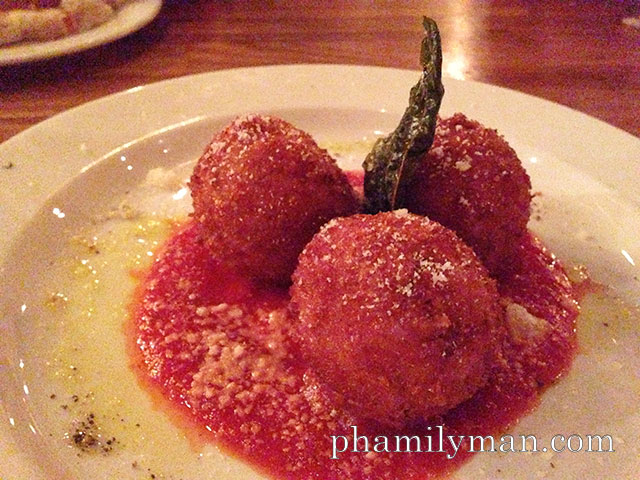 Arancini. Risotto balls filled with ham, cheese, and herbs. Lightly fried and served on top of marinara sauce. The restaurant week serving comes with three balls, but if you ordered the appetizer off the regular menu, it comes with four. Good stuff.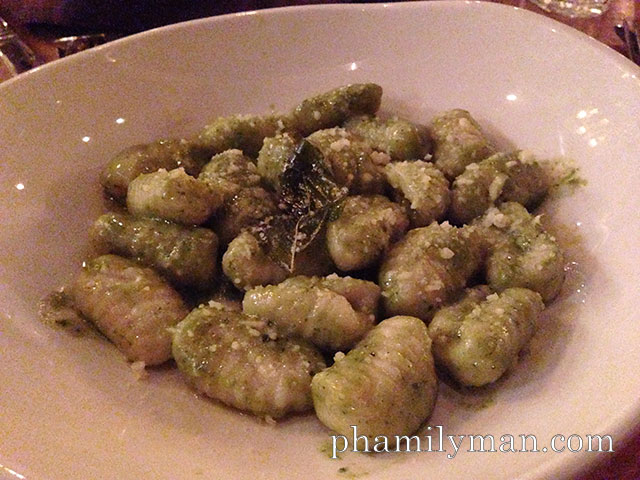 Gnocchi Al Pesto. Homemade gnocchi served with fresh pesto, cream, and pine nuts. I'm nuts for gnocchi. You could tell that these soft, pillowy, puffs of potato pasta were made fresh.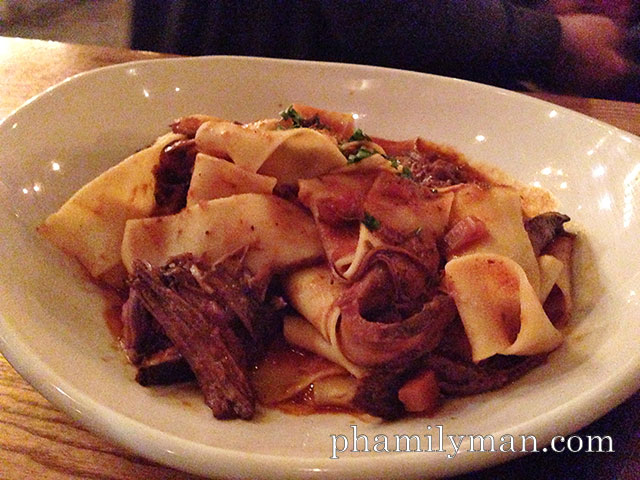 Pappardelle Bruno. Braised short ribs and roasted mushrooms, served with homemade pappardelle. My wife ordered this same dish last year and she was happy with it, so she ordered it again this year.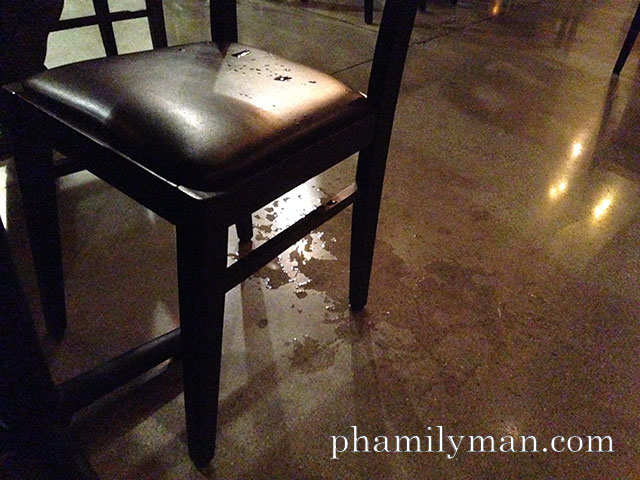 Our waitress knocked over a bottle of water on the abandoned, adjacent table. She made an amazing catch preventing glass from shattering everywhere,but the water remained on the floor until even after we left.
OK. So this is where dinner went downhill. The restaurant week menu came with a glass of wine with each meal. I inherited my wife's glass, so I was owed another glass. I wanted to have it with my main course, but it seemed like an impossible task. I asked the waitress three different times for the glass of wine, and it seemed like she suffered from a case of amnesia every time she came by. When she finally brought it over, she gave me some excuse about the wine being located at the owner's house (?) under her breath that was hard to hear.
I didn't notice the first time I was here, but it seems like the restaurant has the wait staff double as bussers. Problem was, it seems like the wait staff was overwhelmed (it wasn't that busy) and tables weren't cleaned. The two that occupied the table next to us left when we were having our main course and the table remained dirty for the duration of our meal. I guess it went well with the water on the floor.
It appeared that the manager was also working in the capacity of the expediter because no one in charge ever came by. I don't really care about having a manager come by to walk through formalities, but a manager was in need that night. It literally took 47 minutes between our main course and dessert. That's the amount of time between the photo I took of the main courses and dessert. I'm not sure why it took so long to scoop a little ice cream and take a dessert out of the fridge. Even adding in time to eat between courses, I'd say that the timing was still very off.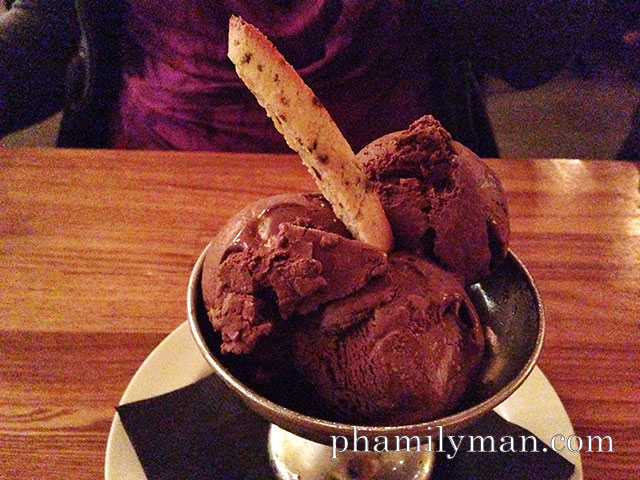 Dark Chocolate Gelato. I think they keep the ice cream at the wrong temperature because the texture was harder than gelato should be.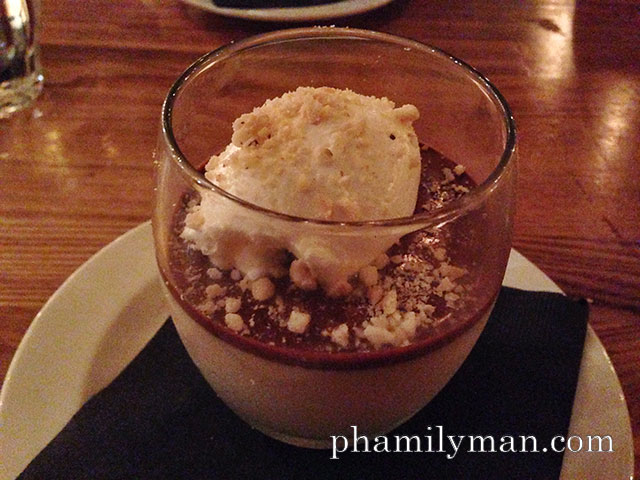 Budino Al Caramello. Caramel pudding, chocolate ganache, and whipped cream. Bruno's is famous for this dessert. The caramel is not as overwhelming as I imagined. It's really good, but I think the portion could easily be shared if it was served in a more sharing friendly container.